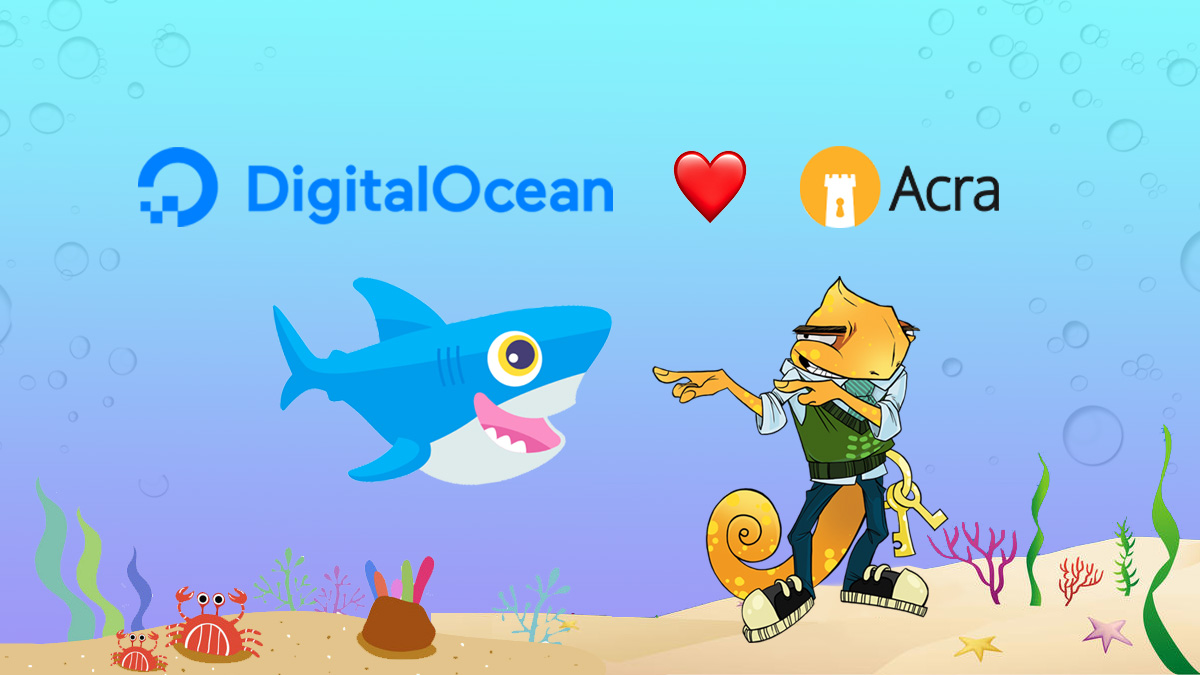 We always strive to make high-end security tools available to general developer audience in a convenient fashion. Only by making data security accessible, we can ensure real security of sensitive data everywhere.
As another step towards our mission, we are proud to announce that Acra encryption suite is now available as 1-Click App running in a Droplet on DigitalOcean Marketplace .
DigitalOcean is known for its caring attitude towards development teams of any size. We share the same values and are delighted that Acra is the first data security tool on DigitalOcean Marketplace.
Acra encryption suite provides data protection in distributed applications, web and mobile apps that use SQL RDBMS or NoSQL databases.
You can install Acra from package manager or directly from GitHub and now we're also excited to announce that Acra is available on DigitalOcean Marketplace .
Acra's features include selective encryption, multi-layered access control, SQL firewall (to prevent SQL injections), database leakage prevention, intrusion detection capabilities, and other data protection capabilities. Acra is compatible with popular SIEMs, KMS, load balancing tools.
Acra is frequently used by companies that operate with sensitive data regardless of its nature (medical records, finance stats, users PII, TensorFlow models, e-books, purchase history, etc).
Acra works as a database proxy, it transparently sits between your application and the database and silently listens to all the traffic coming to and from the database. Acra's main component is AcraServer . Depending on your needs, you may also use other components of Acra (AcraWriter for client-side encryption, AcraConnector for secure transport connection between backend app and Acra, AcraTranslator for NoSQL databases).

Acra 1-Click App contains AcraServer, which can work in different modes, depending on the infrastructure: server-side encryption (Transparent proxy mode, where AcraServer both encrypts and decrypts the data) or client-side encryption (where client application encrypts the data and AcraServer only decrypts it).
You can configure AcraServer yourself or try it with pre-configured settings. Acra 1-Click App has an interactive configuration script that prepares AcraServer for work as a Transparent encryption proxy with a PostgreSQL database.
You can read about other possible configuration options in Acra's GitHub repository or check out the example applications for typical infrastructures (based on Python and Ruby web applications, AcraServer, and various databases).
With DigitalOcean Acra 1-Click App, you get Acra Community Edition which is totally free. Acra is also available as paid Acra Pro and Acra Enterprise versions with additional features and extended support.
To use Acra 1-Click App in a production setting, you need to configure it for your exact situation and needs (generate your own keys, connect to your own database, use strong TLS, configure the SQL firewall, preferably use client-side encryption). Please refer to Acra's configuration guides and examples and read the docs .
Acra works on-prem or in cloud. Select what is best for you.
P.S. New to DigitalOcean Marketplace? Get $100, 60-day credit when you register using Cossack Labs referral code .